Winteractiviteiten in Kirchdorf
Beweging en traditie – Langlaufen
Genieten van het glanzend witte berglandschap. Langs schilderachtige hooischuurtjes en sprookjesachtige bossen, glijdt u door de zachte sporen in de sneeuw. In stilte schitteren de witte bergtoppen van de Wilden Kaiser in de zon. Even doorademen. Frisse Tiroler berglucht. Puur natuur. In Das Seiwald worden al uw winterdromen vervuld.
Het langlauf hotel in een sneeuwzekere langlaufregio, betovert u met meer dan 250km skating- en klassieke langlaufpaden, die u soms sportief, soms rustig door het zonnige droomlandschap en langs adembenemende plaatjes leiden.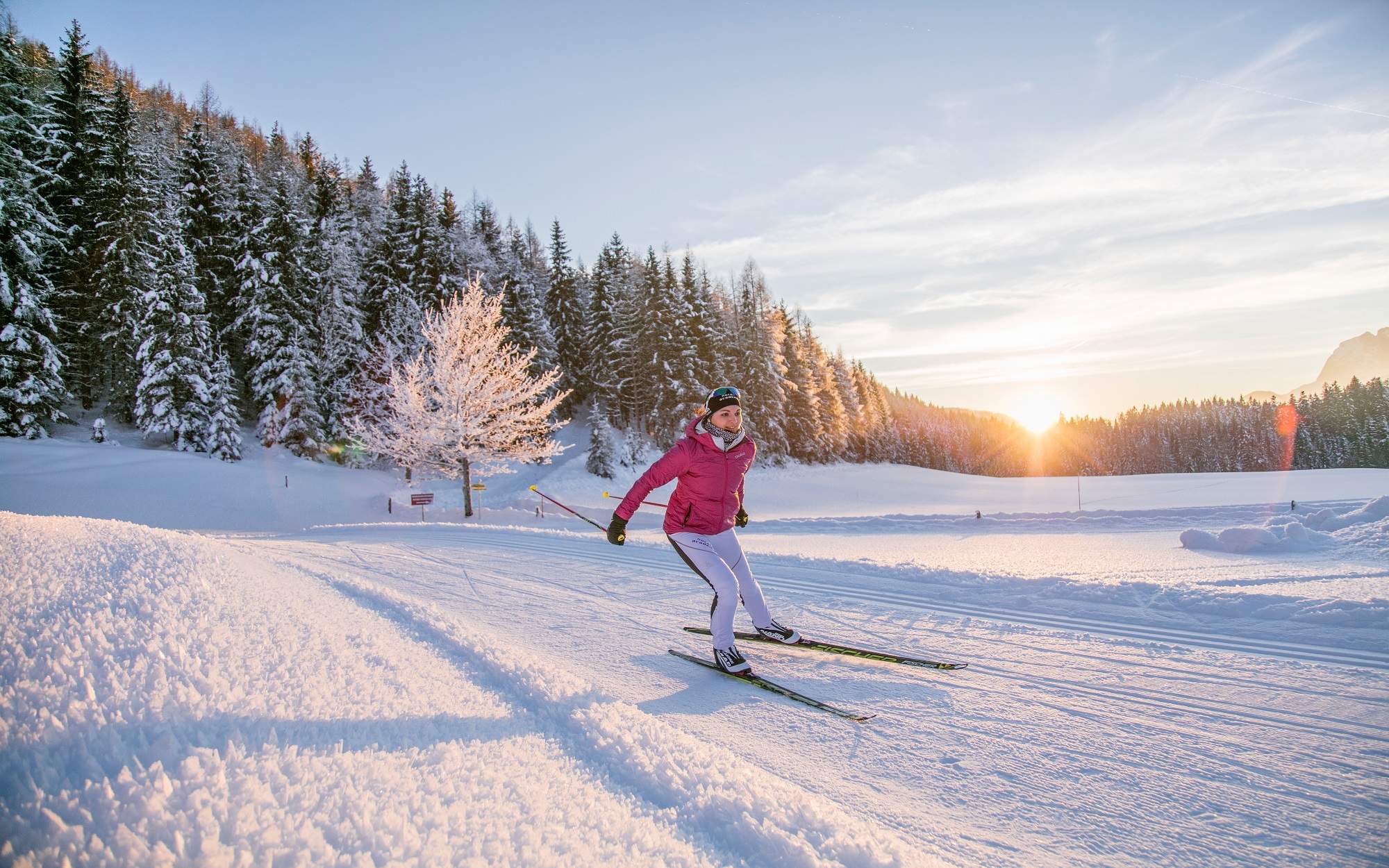 Ontdek zelf een heerlijke mix tussen genot en spanning in een fantastische omgeving. Voor competent advies met betrekking tot uw tour, ontspanning en genot in onze omgeving, zorgen wij in Das Seiwald – uw langlauf hotel in Tirol.
Magie van de bergen – Schneeuwschoen-wandelen
Daar waar wegen eindigen, begint de ware natuur met een geweldig uitzicht en onvergetelijke momenten. Gewichtsloos – als op wolken zwevend in het keizerrijk van de sneeuw. Zachtjes door onaangetast landschap wandelen. De prachtige sneeuwkristallen schitteren in de zachte winterzon. De bergtoppen van de Wilden Kaiser glanzen prachtig wit en zilver. Stil en rustig is het bos. Langzaam zinken de zachte sneeuwvlokken in een wit strand van sneeuw. Inademen. Frisse berglucht. Opleven. Puur natuur. Genot op hoogste niveau op de hellingen vol poedersneeuw. Tijdens het sneeuwschoen-wandelen ontdekt u het echte Tirol. Oorsprong- wild – romantisch.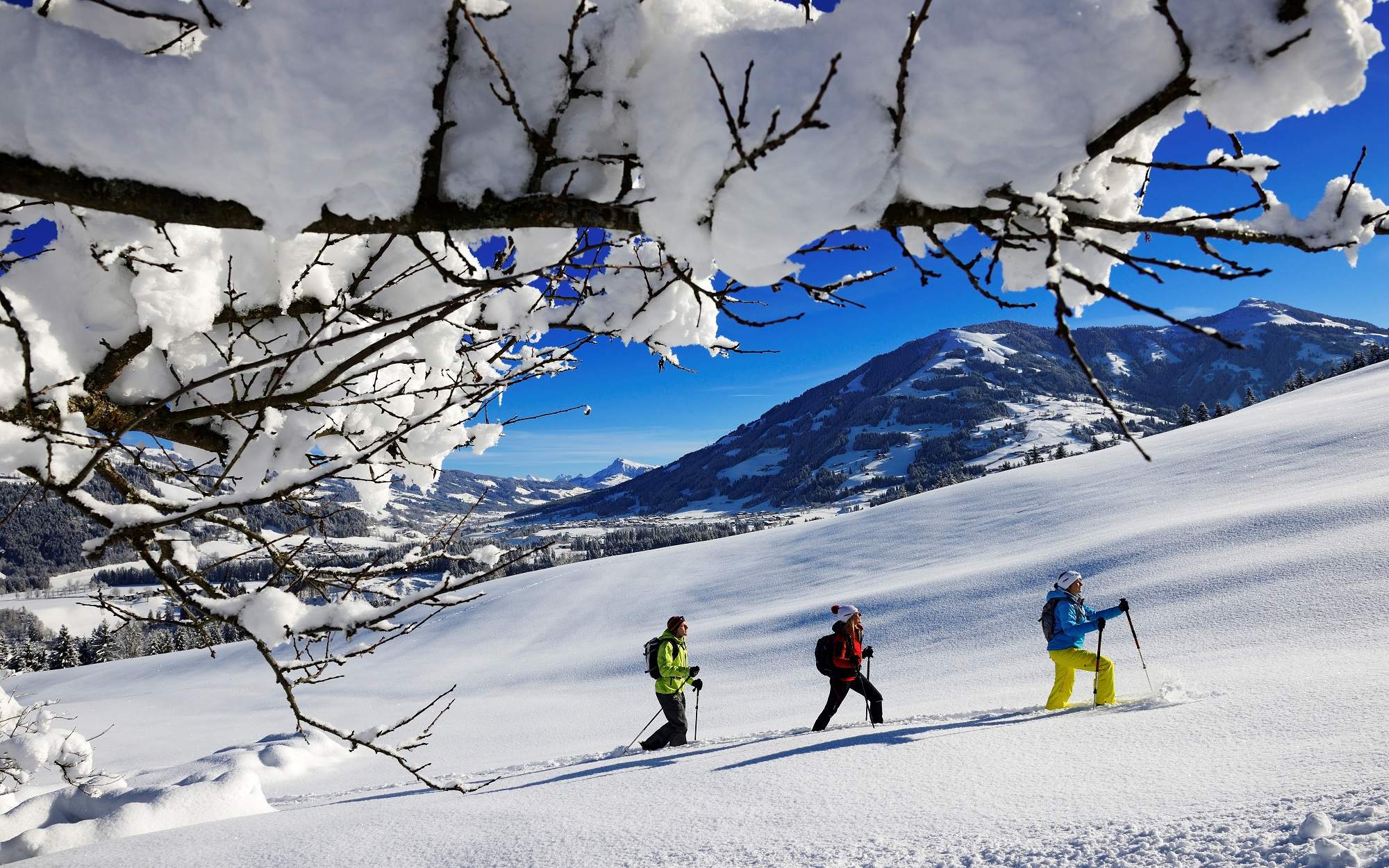 Hartverwarmd, na het genot van een glühwein aan de openhaard in onze gezellige woonkamer. Herboren na een bad in onze ontspanningsoase. Versterkt na een bezoek aan onze sauna met natuurlijke aroma´s.
Magische landschappen in de sneeuw – Winterwandelen in Tirol
Omgeven van onaangetaste natuur en een prachtig panorama, beleeft u Tirol in de winter van zijn mooiste kant. Geniet van de unieke rust.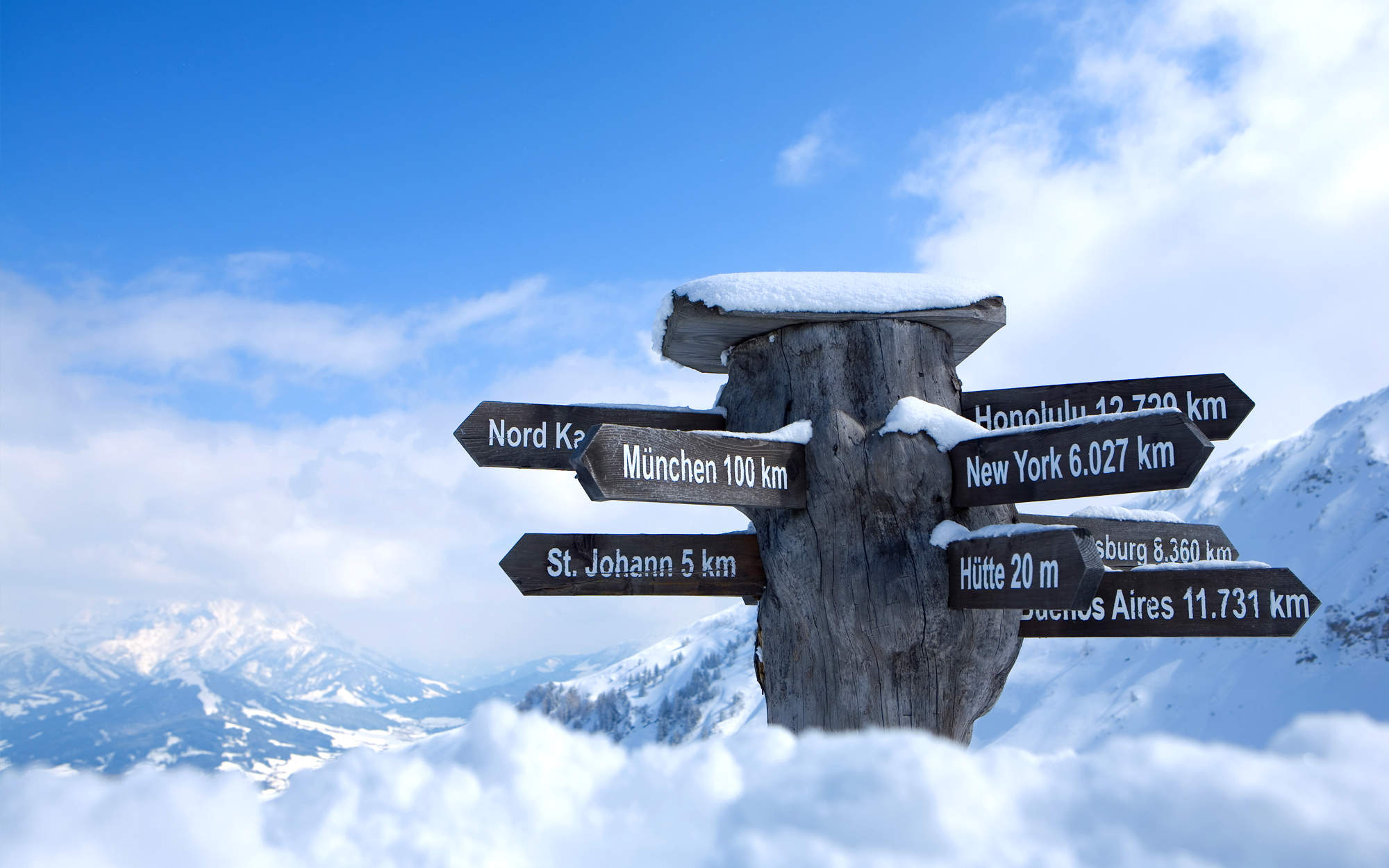 Een vredige, witte wereld begroet u onder een prachtige witte deken van sneeuw. Ontelbare wegen leiden u naar de mooiste plekken van de regio, door besneeuwde bossen en witte velden, langs boerderijen, dorpjes en beekjes. De voorbereidde en gemarkeerde wegen, leiden u door het droomachtige winterlandschap van de Kitzbüheler Alpen.
Warm worden met Glühwein of Jagatee op ons zonnige terras. Voor ontspanning daarna, geniet u van de knusse oase met sauna en zwembad in Hotel Das Seiwald.
Pioniersgeest van de Alpen – Skitouren
Verweg van alle pistes is het oorpronkelijke hart van de Kitzbüheler Alpen bijzonder goed te merken.
Onder begeleiding van een gids, kunt u de indrukwekkende krachten van de bergen van dichtbij zien en uw eigen lichamelijke grenzen verzetten.
Beloont wordt de moeite met een adembenemend uitzicht over de magische wereld van de Tiroler Alpen, zoals de Großglockner, Kitzbüheler Horn en de Wilden Kaiser – plus het goede gevoel, de eerste te zijn, die zijn sporen nalaat in deze verse sneeuw.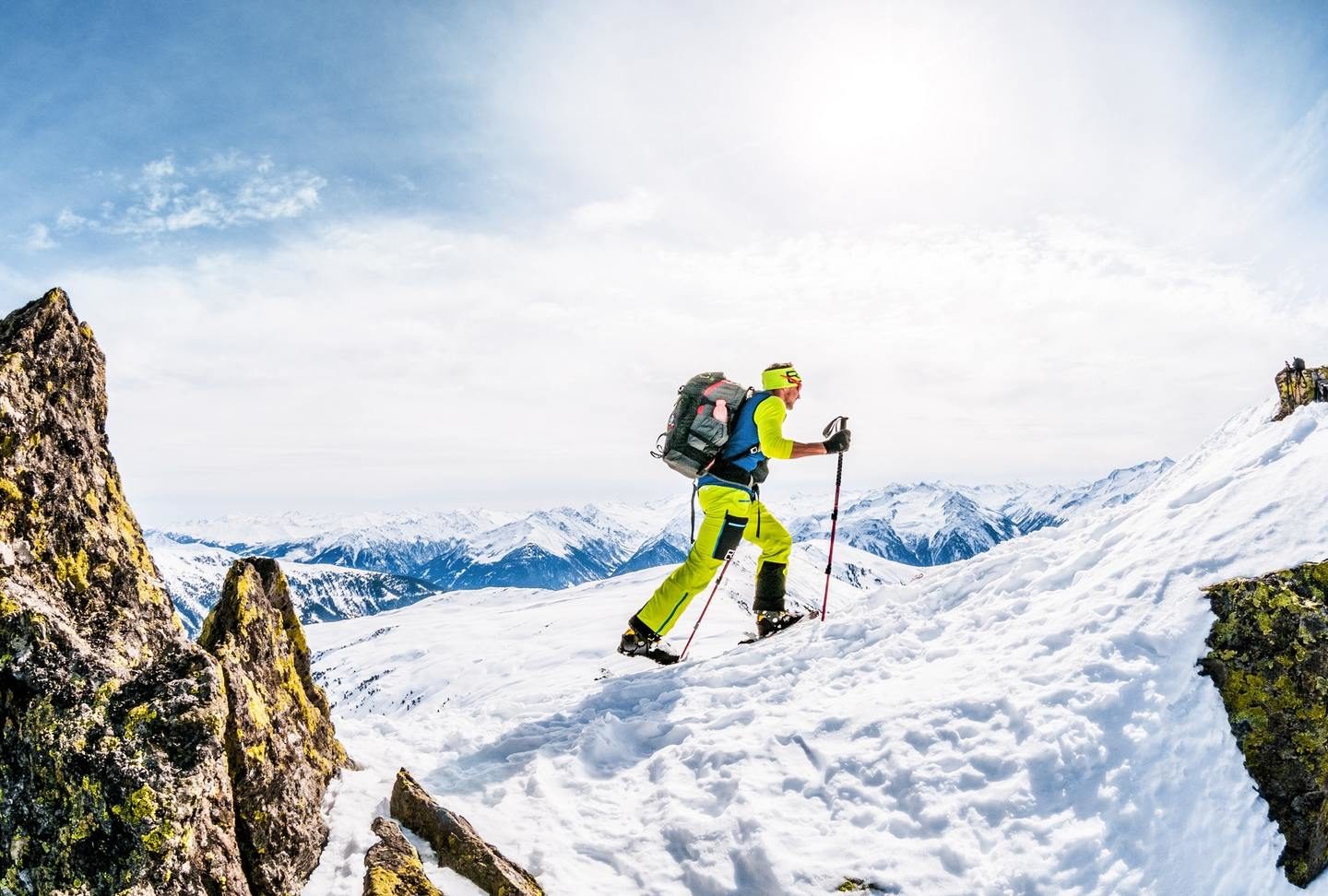 Freeriden in Tirol
Grensloze vrijheid voelen tijdens het freeriden in de Kitzbüheler Alpen. In Kitzbühel bevinden zich talrijke varianten van afdalingen. Hot Spot van de Freeride World Pro Tour is Fieberbrunn. Faces en Couloirs, daarna lange hellingen vol met vers poedersneeuw. Als zwevend op wolken door het witte poeder glijden.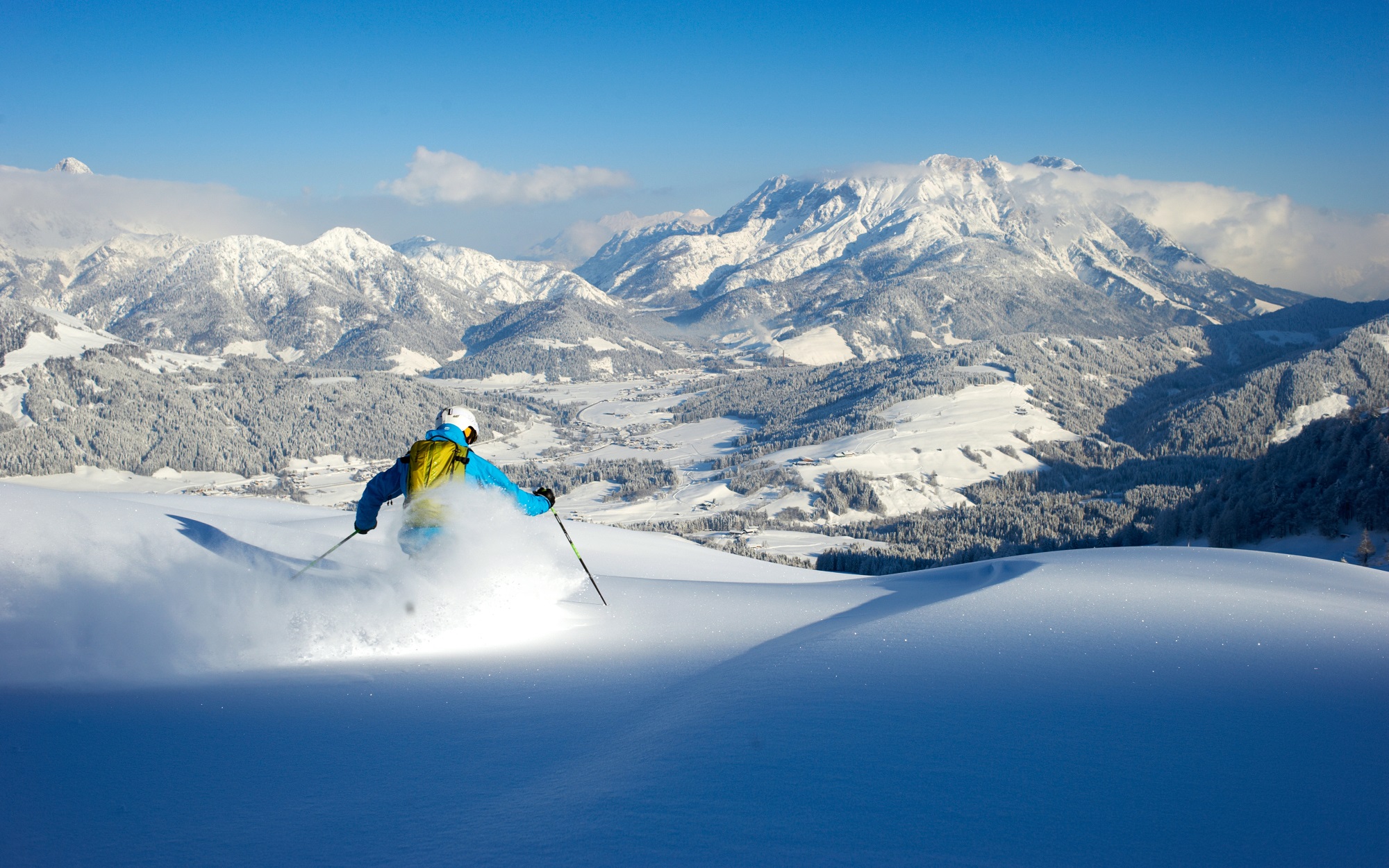 Plezier op de Rodel
De vele afdalingen beloven hilarische momenten voor het hele gezin en zorgen voor hete ijzers!
Of het gaat om een kleine wedstrijd met vrienden onder elkaar of een romantische sleepartij met z´n tweeën – rond ons hotel Das Seiwald en in de buurt vindt u ontelbare Rodelbahnen  en Natuurrodelbahnen waarop u, rustig aan of ook iets wilder, het besneeuwde landschap aan u voorbij ziet gaan.
De Natuurrodelbahn is van de Tiroler Landesregierung met een kwaliteitsprijs gekroond.
Voor diegene die een sleepartij heel authentiek beleven wil, kan een traditionele rodelavond met vrienden organiseren: gezamenlijk lopen jullie (voor de minder sportieve is het ook mogelijk om met een jeep of tractor naar boven te rijden) naar de Bacheralm (geopend van 11:00 tot 24:00 uur), waar jullie met een glühwein en regionale hapjes op de zonsondergang wachten. Zodra de eerste sterren aan de hemel staan, gaat het via de perfect voorbereidde natuurrodelbahn terug naar het dal.